QUICK RECOVERY - back on the water in a few weeks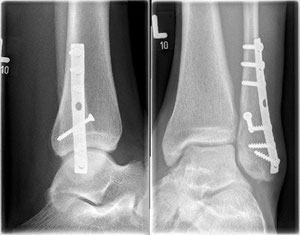 Today I went 2 weeks earlier for the check-up than me Doc told me and it was the right feeling/decision. In the beginning she told me to bring not more than 10-20kg pressure on my broken leg and come back in 2 weeks. Than I asked for an X-Ray and here answered was a lot better after she looked at the new pics of my screwed bone. It looks like it heeled almost completly in 3,5 weeks and I  can increase the pressure.
So I just pump up my muscles a bit and might be back on the water in maybe 2 weeks?!?!?!